Principal Investigator
Dr. Xianghua Xie is an Associate Professor in the Visual Computing Group at the Department of Computer Science, Swansea University. He held an RCUK Academic Fellowship between September 2009 and March 2012, and he was a Senior Lecturer between October 2012 and March 2013. Prior to his position at Swansea, he was a Research Associate in the Computer Vision Group, Department of Computer Science, University of Bristol, where he obtained his PhD in Computer Science and MSc in Advanced Computing (with commendation) in 2006 and 2002, respectively.
CLICK HERE TO FIND OUT MORE...
Postdoc RA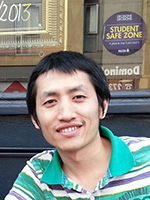 Jingjing Deng, Postdoc.
(Since January 2017)
Research Student
Mohammed Ali, PhD Student.
Avishek Siris, PhD Student.
(Since August 2016)
(Since January 2018)
David George, PhD Student.
Anastasia Paramore, EngD Student.
(Since October 2014)
(Since October 2015)
Taiwei Wang, MSc by Research Student.
Gavin Tsang, PhD Student.
(Since October 2015)
(Since October 2016)
Michael Kenning, MRes Student.
Ali Alqahtani, PhD Student
(Since October 2017)
(Since August 2016)
Majedaldein Almahasneh, PhD Student.
(Since April 2017)
Alumni:
Dr. Mike Edwards (01/2014 - 04/2018), PhD
Mr. Dafydd Ravenscroft (10/2016 - 12/2017), MSc by Research
Dr. Jingjing (Eddy) Deng (04/2013 - 05/2017), PhD
Dr. Jonathan Jones (04/2016 - 08/2016), post-doc RA
Dr. Robert Palmer (10/2012 - 07/2016), PhD
Dr. Jonathan Jones (10/2011 - 11/2015), PhD
Dr. Andy Tappenden (10/2011 - 03/2016, Engineering), PhD
Dr. Feng Zhao (11/2011 - 07/2015), post-doc Research Officer
Mr. Jingjing (Eddy) Deng (12/2012 - 06/2015), Research Assistant
Dr. Ehab Essa (06/2014 - 05/2015), post-doc Research Officer
Dr. Ehab Essa (07/2010 - 05/2014), PhD
Mr. Arron Lacey (10/2011 - 03/2014, part-time), MSc by Research
Dr. Adeline Paiement (10/2009 - 02/2014, Co- with Prof. Mirmehdi, based at Bristol), PhD
Mr. Yaxi Ye (10/2013 - 12/2014), research student
Dr. Huaizhong Zhang (11/2011 - 06/2013), post-doc Research Assistant
Mr. Jingjing Deng (10/2011 - 11/2012), MSc by Research
Dr. Rhodri Bevan (10/2012 - 12/2012), post-doc Research Assistant
Dr. Ben Daubney (08/2009- 11/2012), post-doc Research Officer
Mr. Ren Liu (10/2011-11/2012), MSc by Research
Dr. Dongbin Chen (06/2011-05/2012), post-doc Research Assistant
Dr. Si Yong Yeo (07/2008-08/2011, Co- with Prof. Nithiarasu, based in Engineering), PhD
Mr. Ren Liu (10/2009-06/2011), Master of Research
Dr. Cyril Charron (05/2010-04/2011), post-doc Research Assistant
Dr. John Chiverton (2006-2008, Co- with Prof. Mirmehdi, based at Bristol), post-doc Research Assistant
Dr. Ronghua Yang (2004-2008, Co- with Prof. Mirmehdi, based at Bristol), PhD
Visiting Scholar:
Mr. Lucas Martinet (07/2015 - 09/2015), Institut National des Sciences Appliquees (INSA) Rouen, France
Mr. Marco Cingolani (2009), UNIVPM Italy
Mr. Marchionni Paolo (2009), UNIVPM Italy
Group Photo: